Brian Lee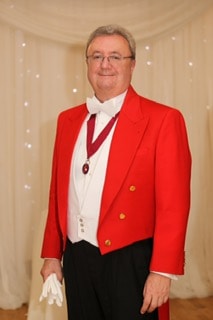 Brian Lee
+44 (0) 208 642 5865
+44 (0) 7977 590220
Blee40@icloud.com

London & The South
Associate of the National Association of Toastmasters
Brian qualified as a toastmaster having spent 43 years as a barristers' clerk, clerking some of the most distinguished commercial barristers and arbitrators in England.  He has found that not only his organisational skills, but planning and sense of humour have transferred smoothly to being a toastmaster.
Having two daughters married in 2019, Brian really appreciates the organisation that is required to ensure the day is a joyous, uplifting and fun day for those attending. He is also delighted to assist with any event where a toastmaster is required, particularly corporate or masonic events.
Brian covers the South, South East of England and London, and would be pleased to discuss your requirements with you.