Tony Cooper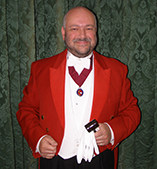 Tony Cooper
01243 587943
07818 063876
tcmag62@gmail.com

West Sussex
Associate of the National Association of Toastmasters
If you are looking for an experienced, friendly and accommodating Toastmaster to enhance your event, then I can suit every need.
Whatever your event, I guarantee to bring a sense of occasion and import, whilst ensuring the function goes smoothly and free of hiccups.
I take great care in liaising with you and listening to your wishes on every aspect of your event and always remember that it is your day. Your wish is my command! (within reason!)
I look forward to making your function go with a swing and for it to be the most memorable day.