Paul Deacon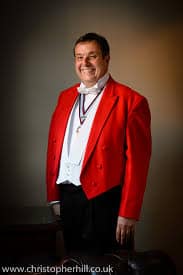 Paul Deacon
+44 (0) 1494 862868
+44 (0) 7590 913444
paul@pauldeacon.com
http://www.pauldeacon.com
UK, Overseas
Past President & Fellow of the National Association of Toastmasters
Over the 25 years I have enjoyed looking after Brides and Bridegrooms and corporate events all over the world while representing the NAT and have worked in palaces, temples and venues varying in size from a badminton court to inside the Wellington Arch in Hyde Park Corner to managing charity events at the Grosvenor House Hotel with more than a thousand guests.
I have been honoured to officiate at royal events both in the UK and overseas and co-ordinated the millennium night celebrations in Monaco in the presence of HSH Prince Albert of Monaco.
I was delighted to be the 2012/3 President of the NAT and love the buzz of a successful celebration. I am an experienced and reliable MC skilled in looking after multi-faith weddings and International dinners  of all sorts. You can find more information about me at www.pauldeacon.com and I look forward to hearing from you.